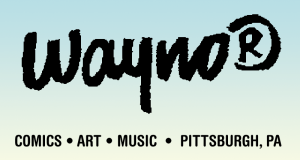 ---
Connect With Us!
Wayno is a cartoonist and musician. He writes and draws the Monday through Saturday Bizarro comic, which is syndicated internationally in more than 350 newspapers. Bizarro's creator Dan Piraro continues to do the Sunday comic. Wayno's humorous illustrations have appeared in The New Yorker, The New York Times, Entertainment Weekly, The Guardian, Nickelodeon Magazine, and Pittsburgh Magazine, and he has designed beer labels for East End Brewing Company.
He has had several exhibits of his "cartoon pop" paintings, and is a former Visiting Artist at Pittsburgh's Manchester Craftsmens Guild. Wayno also performs on harmonica, ukulele, and vocals with The Red Beans & Rice Combo, a trio that includes fellow cartoonist Dave Klug on drums and pianist Tom Roberts.
He is a member of the Pittsburgh Society of Illustrators, and serves as the chair of the Pittsburgh Chapter of National Cartoonists Society.
Wayno lives in Mount Lebanon with his spouse, Kim Honath, and their two cats, Foster and Jackson.
Reason for being an Outreach Event Sponsor:
We are pleased to support an important organization that directly helps our neighbors. We believe that by supporting at the local level, our contributions will have a greater impact on our community.